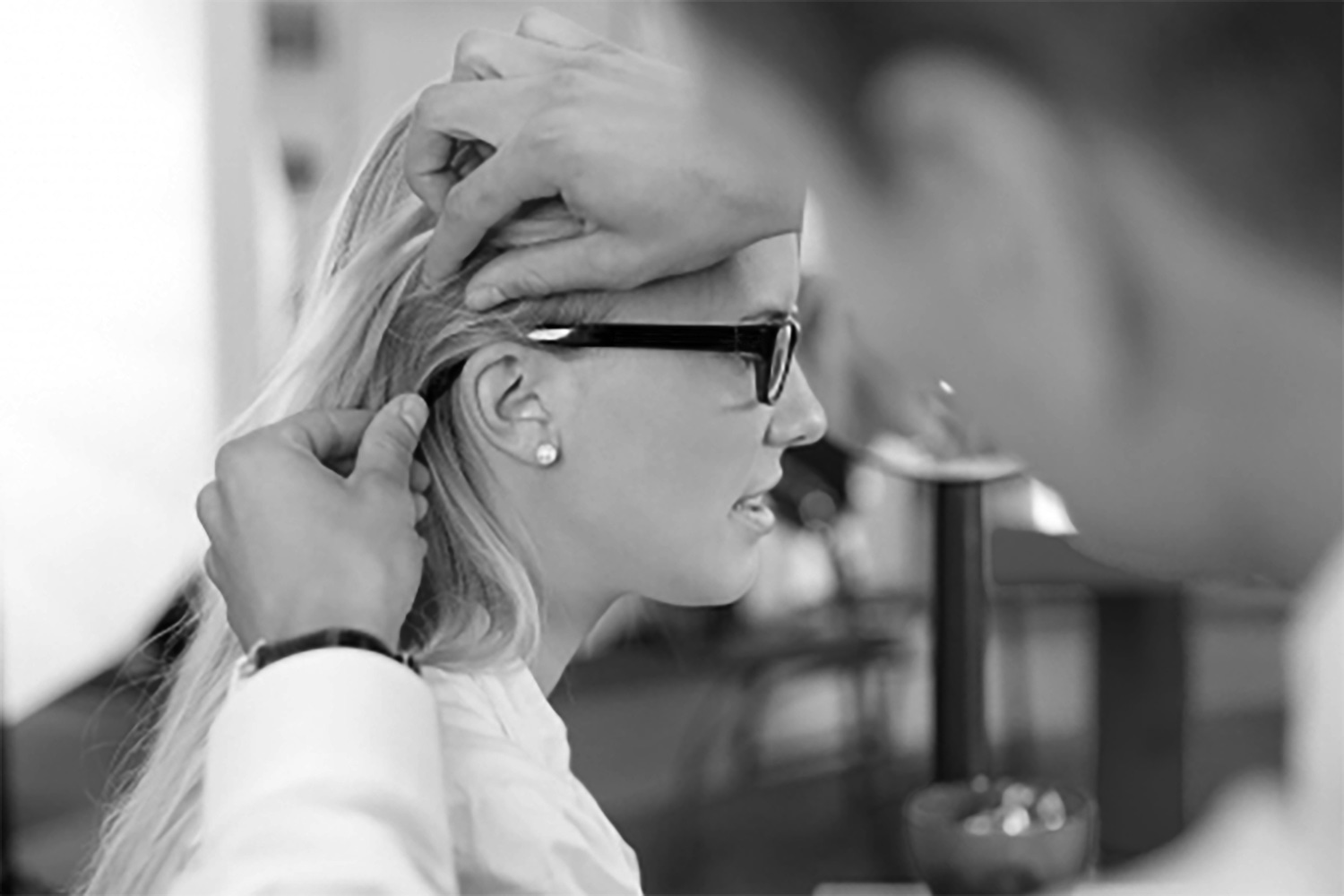 ほんとうに掛けやすい眼鏡とは。
2代目として家業の眼鏡店を継いで十余年。
試行錯誤してたどり着いたフレームの正解は軽さでも柔らかさでもなく、骨格とのバランスでした。

理想的なバランスをかたちにしようと思えば、おざなりにできないのがフィッティング技術です。
寸分の狂いなくフィットしたとき、
眼鏡はわれわれの手のなかでカチッと鳴ります。
検眼やフィッティングの素養が求められる眼鏡店の商いはかつて"半医半商"といわれました。
AKIRA & SONSはこの原点に立ち返り、われわれの腕も鳴る眼鏡を目指しました。
装飾を排した、ミニマルを極めたデザイン、
細く攻めたテンプル、クリングスと呼ばれるノーズパッド──いちからつくりあげたフレームは、"カチッと鳴る"条件を満たしています。

フレームといえば、厚くとった蝶番まわりや先セルも見どころのひとつ。
前者はもっとも負荷のかかる部位に強度を与え、後者は重心バランスを最適に保ちます。

_
What are glasses that are really easy to wear?
It has been more than 10 years since he succeeded the family optician as the second generation.
The correct answer for the frame that I arrived at through trial and error was not lightness or softness, but the balance with the skeleton.
If you want to achieve the ideal balance, fitting technic cannot be neglected.
The glasses click in our hands when they fit snugly.
The optician business that requires optometry and fitting skills was once referred to as the "half-medicine and half-business."
AKIRA & SONS went back to this origin and aimed for eyeglasses that would ring our arms.
Minimal design with no decoration, thinly attacked temples, adjustable nose pad, ── The frame made from scratch meets the "click" condition.
Speaking of the frame, one of the highlights is the thick hinges and the tip cell.
The former gives strength to the most loaded areas, and the latter keeps the balance of the center of gravity optimal.